Don't let their smiles fool you!
🚨WARNING: Semi-spoilers ahead!🚨
Netflix and mystery author Harlan Coben have teamed up again to bring fans another binge-worthy thriller series: Stay Close.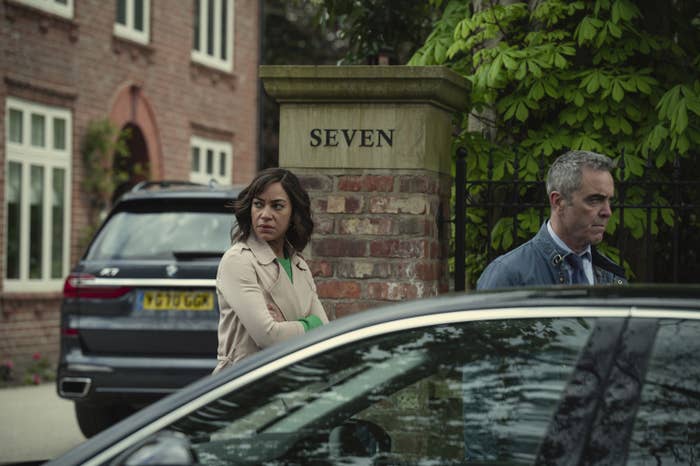 Vishal Sharma / ©Netflix / Courtesy Everett Collection
Stay Close is based off Harlan's 2012 best-selling psychological thriller novel of the same name.
It follows Megan Pierce (played by Cush Jumbo) — a woman seeming to live a picture-perfect life with her fiancé Dave and their three children.
Well, her quintessential world comes crashing down when Lorraine, a friend from her past, comes back to remind Megan of the wild life she left behind.
And when I say things did a complete 180 for Megan, I mean things IMMEDIATELY started spiraling out of control — like getting caught up in a murder investigation.
Oh and that murder I mentioned, yeah, that was just one of many killings happening in the area.
But the suspense doesn't stop there! Then the show throws in a bunch of characters we aren't sure we should trust, like these happy-go-lucky theater kids with a dark side...
James Stack / Netflix / Everett Collection
...and an ex-lover named Ray (played by Richard Armitage) who's still desperately obsessed with Megan.
Netflix
I mean the man has a wall montage dedicated to her for crying out loud.

But don't just take my word for it, here's what people on Twitter are saying about it:
4.
I just finished #StayClose and I have 2 takeaways: 1. The police don't need to dangerously chase suspects and brutalize the public OR the accused in civilized countries. 2. They can make a riveting show without graphic sex scenes and constant swearing. 10/10 #StayClosenetflix
Twitter: @eyeslikebadu
13.

Did not see that ending of Stay Close coming! I'm not saying I support the motive...also not saying I don't support 🤷‍♀️ Now on to Safe 👀👀 #stayclose #safe #Netflix #harlancoben
Twitter: @ruthieley
19.
I just finished watching the series #StayClosenetflix.. I'm not going to leave any spoiler alerts but it's the best murder mystery I have watched since the beginning of this pandemic and you can trust and believe I've watched everything on Netflix worth watching👌 10 Stars
Twitter: @WilliamStLucia1