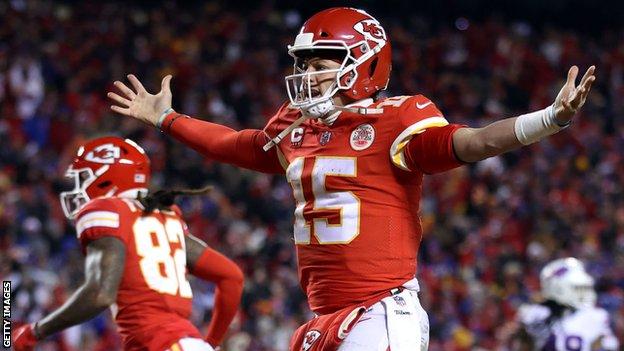 Patrick Mahomes threw for 177 yards after the two-minute warning at the end of regulation time
Highlights:
Watch
NFL This Week
from Tuesday on BBC iPlayer, BBC Red Button and online.
The Kansas City Chiefs and the Los Angeles Rams completed an extraordinary weekend in the NFL play-offs by moving within one win of Super Bowl 56.
The Rams' 30-27 win at the Tampa Bay Buccaneers meant that the first three divisional round games were all won with a field goal as time expired.
Kansas City then claimed a thrilling 42-36 win over the Buffalo Bills.
The lead changed hands three times in the final two minutes before a Chiefs field goal forced overtime.
Kansas City will now be the first team to host the AFC Championship game four years running. They will welcome the Cincinnati Bengals next Sunday, while the Rams host the San Francisco 49ers in the NFC Championship game.
Last year the Bucs became the first team to play in a Super Bowl in their own stadium, and the Rams are now one win from repeating the feat as Super Bowl 56 will be staged at SoFi Stadium on 13 February.
Chiefs beat Bills in instant classic - as it happened
NFL play-offs: 49ers and Bengals claim upsets in divisional round
Mahomes-Allen shootout exceeds expectations
The Chiefs beat the Bills in last year's AFC Championship game, before losing to Tampa Bay in Super Bowl 55, and the rematch was billed as a shootout between their dual-threat quarterbacks Patrick Mahomes and Josh Allen.
Both threw for five touchdown passes in their wins last week and traded blows as they went to head-to-head, barely putting a foot wrong, even during a nail-biting finale.
Mahomes, 26, dived into the pylon to cancel out Devin Singletary's early touchdown before finding Byron Pringle with a touchdown pass off his back foot.
Allen, 25, picked out Gabriel Davis for the first of four receiving touchdowns - a play-off record - to make it 14-14 at half-time.
Mecole Hardman raced in to give the Chiefs a 23-14 lead late in the third quarter, only for the Bills to hit back on the very next play, with Allen making a 75-yard touchdown pass to Davis - the longest of his four-year career.
Profiles and ones to watch for eight teams in NFL divisional round
A Kansas City field goal made it 26-21 before a stunning finale, which saw 25 points scored in the last 1:54 of regular time.
Allen found Davis again, adding a two-point conversion, before a Mahomes strike released Tyreek Hill for a 64-yard touchdown with 1:13 remaining.
The Bills regained the lead through Davis but despite there being just 13 seconds left, they allowed Mahomes to get the Chiefs within range for Harrison Butker to tie the game with a 49-yard field goal.
And ultimately it was the coin toss that cost Buffalo as a touchdown on the opening possession of overtime would win the game, without Allen getting back on the field, and Mahomes found Travis Kelce at the back of the end zone to settle what could be the first of many classic contests between the AFC's young quarterback stars.
Rams overcome Bucs fightback
Kendall Blanton claimed the first of three touchdowns for the Rams, before the Bucs scored 24 unanswered points
Touchdowns by Kendall Blanton and Cooper Kupp helped Los Angeles charge into a 20-3 lead at half-time, before Matthew Stafford scored with a quarterback sneak to make it 27-3 in the third quarter.
The Rams' star-studded defence pressured Tom Brady throughout but the seven-time Super Bowl winner then led a thrilling fightback, including a touchdown by fit-again running back Leonard Fournette which gave the Bucs hope as they trailed 27-13 heading into the final quarter.
That hope looked to have gone when Von Miller recovered a strip sack on Brady, only for the Rams to give possession straight back to the Bucs with a snap that flew past Stafford.
NFL play-off fixtures and results
Essential guide to the NFL play-offs
Tampa Bay were unable to score on that possession but Brady later made a 55-yard touchdown pass to Mike Evans, and just two plays after that, Ndamukong Suh hooked the ball from Cam Akers' grasp to get the ball back with 2:32 left.
Fournette, nicknamed 'Play-off Lenny', ran in his eighth touchdown in seven post-season games before the Bucs kicked the extra point to tie the score with 42 seconds left.
There was still time for the Rams but they almost turned the ball over again on the first play of the drive, with Stafford having to recover his own fumble.
But Stafford then made two huge plays to Kupp, the league's leading receiver this season, before spiking the ball to give Matt Gay the chance to redeem himself with a 30-yard field goal after missing from 47 yards just six minutes earlier.
What now for Brady?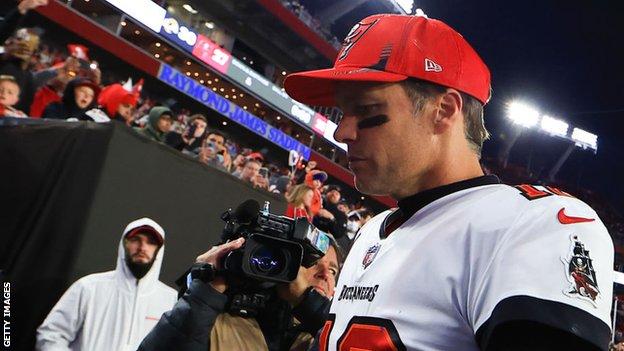 Despite a poor start, Brady finished with 329 passing yards with one touchdown and one interception
Stafford's late heroics prevented Brady extending his record of 35 wins in the play-offs alone. To put that into context, 49ers legend Joe Montana is the next best quarterback with 16.
Widely regarded as the NFL's greatest player of all time, Brady has a year remaining on his contract and has previously talked about playing beyond his 45th birthday, which is a month before the start of next season.
It has been reported that the three-time MVP now plans to take at least a month before deciding if he will return for 2022 or retire, but Sunday's game showed that, even now, no NFL quarterback is feared more than Brady.
Every time a team now takes a big lead against a Brady team, Super Bowl 51 is mentioned. The New England Patriots trailed the Atlanta Falcons 28-3 in the third quarter but Brady engineered the greatest comeback in Super Bowl history, as the Pats levelled at 28-28 before winning 34-28 in overtime.
It keeps getting mentioned because Brady continues to prove he can lead a team downfield like no-one else. He almost pulled off another rescue mission here, and that came after leading the league for both passing yards and touchdowns this season. Brady threw for a career-high 5,316 yards and only once before has he had more than the 43 TDs he managed in the regular season.
And when asked about his future after the Bucs' play-off exit, Brady said: "I haven't put a lot of thought into it. We'll just take it day by day and see where we're at."
Brady added that he felt great physically and when asked whether he thought the game might be his last, he replied: "I was just thinking about winning. That's just kind of my mentality to go out there and try to win."
Get American Football alerts in the BBC Sport app


How do influencers make a living?:
Content creators reveal ways in which to make it a lucrative career
Transfer Gossip Daily?
Get your fix of all the latest and biggest transfer stories