"I landed in the pit and went, 'Did I catch it?'"
Lady Gaga is a lady of numerous talents. A classic triple threat performer, she's built a career spanning both the music and film industries while collecting Grammys, Oscars, and Golden Globe awards along the way. (Let's not forget her instrumental expertise or expansive list of songwriting credits, either.)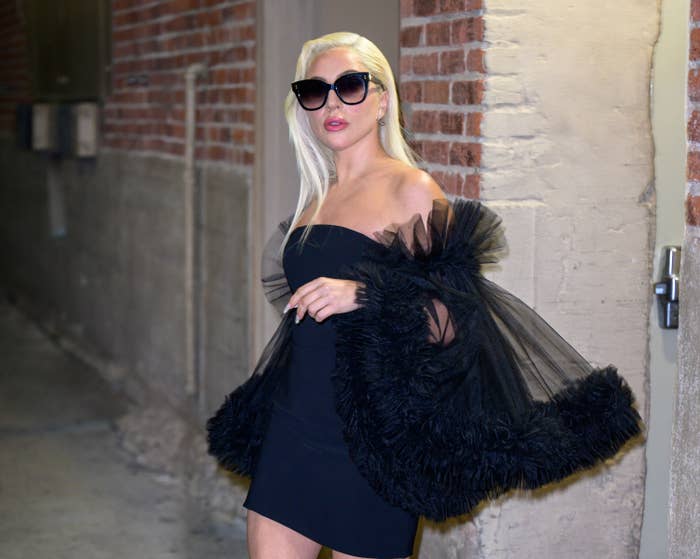 Rb / GC Images via Getty Images
As many of us will likely remember, her multifarious skillset landed Gaga a coveted NFL contract back in 2017, when she headlined that year's Super Bowl halftime show.
The set was pretty eventful, and featured Gaga putting her broad range of abilities on display.
She sang, danced, played the piano, affixed herself to a harness and soared over the stadium...
The bells and whistles were all there. In the spirit of the occasion, Gaga even dabbled in a touch of athletics to close the show. Her halftime set's dramatic finale saw Gaga leap from the stage to catch a football tossed in her direction from somewhere offstage.
And while her turn as star quarterback appeared to go off without a hitch, Gaga said she had serious doubts after a series of less successful football-catching attempts during rehearsals. "I made a very silly decision to decide to try to catch a touchdown at the end," she explained in a recent appearance on Jimmy Kimmel Live!, which aired just a few weeks ahead of the next annual football game.
View this video on YouTube
ABC / Via youtube.com
"I wanted to jump in and jump out of the performance because I thought it was compositionally interesting. So I was so super excited to catch this football," she shared. "But four out of five times that we practiced it, I didn't get it."
ABC / Via youtube.com
Gaga also noted that she was aware of the stakes should she fumble. "I knew the headline would be, like, you know, 'The Patriots win and Lady Gaga loses' ... Like, 'Stick to singing, honey.'"

Of course, as we know, the risky move worked out as planned in the end. "It was funny because I — no one could see, but I landed in this giant foam pit, like you would see in a gym or something," Gaga continued.
View this video on YouTube
Fox / Via youtube.com
"And I landed in the pit and went, 'Did I catch it?l I caught it! I caught it! Did they get it? Did they get it on camera? Did the people see it?'"