In an alternate universe, Mirabel blew out the candle on purpose.
Plenty of jokes have been made across social media for people who just can't stop watching the movie and listening to the soundtrack, but TikTok has some gems worth laughing along with too.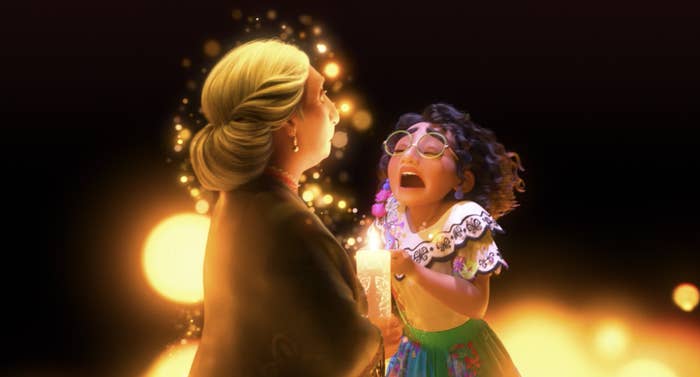 Here are 24 of the best ones, along with some of the best comments below each one:
Note: If the TikTok videos are not playing for you, you might need to change the settings on your device — here's how.

1.

This person could put on a whole stage show as Luisa:
2.

This person revealed how Antonio's gift is basically also a curse:
3.

This person realized that Dolores's gift has its downsides too:
4.

This person is a bit more petty than Mirabel, and TBH she's right to be:
5.

Same with this person:
6.

This person's listened to "We Don't Talk About Bruno" for the millionth time:
7.

These two siblings re-recorded "We Don't Talk About Bruno" and somehow made it even better:
8.

This person got a peek into Lin-Manuel Miranda's songwriting process during "Surface Pressure":
9.

This person noticed that the donkeys were getting their life while Luisa was fighting for hers:
10.

This family was feeling the pressure from "Surface Pressure":
11.

This sister also felt the tension:
12.

This person channeled Bruno:
13.

This person got bored and texted the lyrics to "We Don't Talk About Bruno" to a random number:
14.

This person has the hots for Bruno:
15.

This person pointed out that Bruno vibed to hearing himself get roasted:
16.

This person got inside Maribel's head when Isabela came down with her verse:
17.

This husband was not prepared to carry the weight of Luisa's song on his shoulders:
18.

These friends performed the entirety of "We Don't Talk About Bruno" in Spanish:
19.

This couple put on a performance of their own, donkeys and all:
20.

This person's brain is now 99% Encanto and 1% vibes:
21.

Same goes for this person, whose thoughts are now consumed by random lines:
22.

This person was ready to fight Abuela:
23.

This person let us know just how good Bruno's rat novelas would be:
24.

And finally, like the rest of us, this person's got the whole movie memorized by this point: