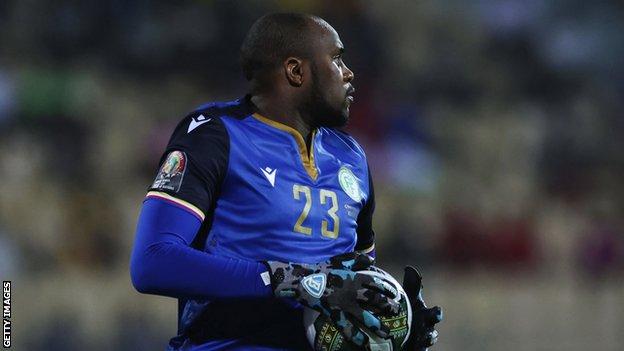 Ali Ahamada started Comoros' first group game against Gabon and then came off the bench against Ghana when Salim Ben Boina was injured
Comoros goalkeeper Ali Ahamada will not be able to play their Africa Cup of Nations last-16 tie against Cameroon on Monday despite testing negative for Covid-19 on the morning of the game.
A media officer from organisers Confederation of African Football (Caf) told BBC Sport Africa that the 30-year-old had not fulfilled their protocols.
The Indian Ocean islanders are now set to play without a recognised keeper.
Salim Ben Boina (shoulder) and Moyadh Ousseini (Covid-19) are also out.
Ahamada and midfielder Yacine Bourhane, who also tested negative on Monday morning, had hoped to rejoin the Comoros squad for the game against the Indomitable Lions.
But Caf rules state a player who tests positive for coronavirus must isolate for five days before taking another PCR test 48 hours before his side's next match.
The Comoros football federation (FFC) said Ahamada and Ousseini were among several players and management affected by a coronavirus outbreak on Saturday.
Tournament rules state sides must play if they have 11 fit players, even if no recognised goalkeeper is available.
Debutants Comoros, ranked 132nd in the world, face five-time Nations Cup Cameroon at 19:00 GMT and the game will be shown live in the UK on the BBC Sport website, iPlayer and Red Button.