'90s kids may not remember these films after all...
A lot of great movies found their audiences throughout the 1990s, whether it be on the big screen, on a video shelf or on late night cable television. Yet there's an even bigger number of far-out flicks that fell through the cracks, and they just might be worth your precious time in the present.
1.
Drop Squad (1994)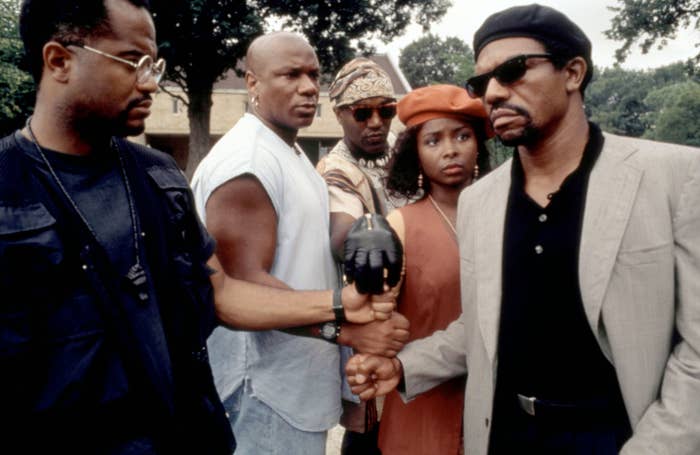 Gramercy Pictures / Courtesy Everett Collection
Produced by Spike Lee in the shadow of Malcolm X, Drop Squad is an ambitious, provocative drama following a group of African Americans who turn to kidnapping and psychological torture to "deprogram" a headstrong advertising executive (Eriq La Salle) accused of betraying and exploiting his community.
2.
No Escape (1994)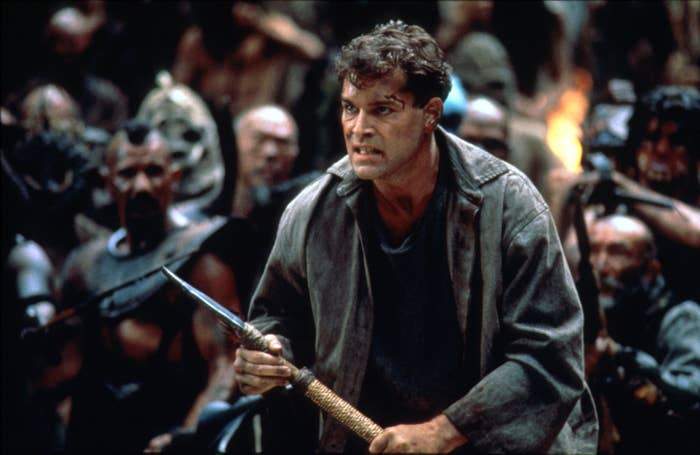 Archives du 7e Art collection / Photo 12 Courtesy Alamy
A thrilling, hard-hitting mix of Mad Max and Escape from New York, No Escape follows a dystopian future in which a convict (Liotta) is exiled to a remote island, where he is caught between warring tribes of fellow criminals.
3.
Death Machine (1994)
Moviestore Collection Ltd courtesy Alamy
The fun and frantic directorial debut of special effects wizard Stephen Norrington, Death Machine follows eco-warriors (John Sharian, Martin McDougall and Andreas Wisniewski), a whistleblower (Ely Pouget) and a number of corporate employees who find themselves hunted in their office building by a deranged weapons designer (Brad Dourif) and his killer robotic creation.
4.
Rapid Fire (1992)
20th Century Fox Film Corp. / Courtesy Everett Collection
Though Brandon Lee's tragically short career will always be defined by The Crow, Lee also impresses in this bone-breaking, action-packed film as a federal witness who decides to fight back against the criminal organizations looking for his head in Chicago.
5.
Dirty Work (1998)
MGM courtesy APL Archive / Via Alamy
Directed by the late, great Bob Saget, Dirty Work is an outrageous, laugh-a-minute comedy about a pair of best friends (Artie Lange and Norm MacDonald) who learn that they're secretly brothers and turn to a revenge-for-hire business to pay for their father's (Jack Warden) life-saving surgery.
6.
Joe's Apartment (1996)
Geffen Pictures / courtesy Everett Collection
MTV's mature, gross-out answer to Alvin and the Chipmunks, Joe's Apartment is a cult classic that follows a New York City transplant who befriends a litany of musical, well-meaning cockroaches in the hopes of better fortune (to, of course, mixed results).
7.
Tall Tale (1995)
A7A collection / Photo 12 / Alamy Stock Photo
A star-studded and surprisingly violent Disney affair, Tall Tale follows a young farmer (Nick Stahl) who enlists in the help of American legendary figures Pecos Bill (Patrick Swayze), Paul Bunyan (Platt) and John Henry (Roger Aaron Brown) to help fight a villainous land developer (Scott Glenn).
8.
Bloodmoon (1997)
Media of Medias / Via YouTube
An over-the-top, often bonkers mix of martial arts action movie and pick-'em-off slasher flick, Bloodmoon tells the story of ex-cop Ken O'Hara (Gary Daniels) who partners with a magic-loving detective (Chuck Jeffreys) to track down a serial killing maniac (Darren Shahlavi) targeting New York's greatest fighters.
9.
Def by Temptation (1990)
Troma Inc. courtesy Ronald Grant Archiva via Alamy
In this surreal and bloody cult favorite, two best friends (James Bond III and Kadeem Hardison) cross paths with a vampiric succubus (Cynthia Bond) at a local bar in New York City while dealing with the weight of their own aggressively religious upbringing.
10.
Four Rooms (1995)
Collection Christophel / Alamy Stock Photo
An absurd anthology film directed by Allison Anders, Alexandre Rockwell, Robert Rodriguez and Quentin Tarantino, Four Rooms follows a timid and anxious bellhop (Tim Roth) as he navigates a number of bizarre scenarios in his hotel over the course of New Year's Eve, including those involving witches, jilted lovers, mischievous children and high-stakes gamblers.
11.
The Guyver (1991)
New Line Cinema / Courtesy Everett Collection
Equal parts Power Rangers, Teenage Mutant Ninja Turtles, Ultraman and Garbage Pail Kids, The Guyver adapted Yoshiki Takaya's manga series of the same name, in which an unwitting, mild-mannered man (Jack Armstrong) finds himself in a midst of a biological corporate war after becoming fused with an alien super-suit.
12.
Blown Away (1994)
MGM / Courtesy Everett Collection
A pulse-pounding cat-and-mouse thriller with a number of genuine edge-of-your-seat set pieces, Blown Away tells the story of a bomb squad lieutenant (Jeff Bridges) whose past comes to haunt him when he is personally targeted by a relentless terrorist (Jones).
13.
Once Upon a Forest (1993)
Collection Christophel Courtesy Alamy Stock Photo
A surprisingly environmentally-friendly animated film from Hanna-Barbera Productions, Once Upon a Forest is the story of three "furlings" who embark upon a dangerous voyage to a distant meadow in an attempt to find the herbs necessary to save their gravely poisoned friend.

14.
The Vagrant (1992)
Moviestore Collection Ltd. courtesy Alamy
Produced by Mel Brooks, The Vagrant is sadly forgotten yet manic and twisted horror comedy about a new homeowner (Paxton) who is constantly tormented by a murderous vagabond (Marshall Bell).

15.
Trespass (1992)
Photo 12 courtesy Alamy
From Walter Hill, the director behind The Warriors and 48 Hrs, Trespass is an intense and ferocious film about a pair of firefighters (William Sadler and Bill Paxton) who seek to steal stolen treasure from a derelict building in St. Louis, only to find themselves in a stand-off with a violent, territorial gang, led by King James (Ice-T).
16.
But I'm a Cheerleader (1999)
Allstar Picture Library Ltd. courtesy Alamy
A satirical romantic comedy that has become a cult favorite among queer cinema fans, But I'm a Cheerleader shares the tale of a high school teenager (Lyonne) who is sent to a conversion therapy camp, where she begins to fall in love with another inductee (DuVall).
17.
National Lampoon's Loaded Weapon 1 (1993)
New Line Cinema / Courtesy Everett Collection
A hilarious and extremely underrated parody film caught in the tide of a changing genre landscape, Loaded Weapon 1 assembles an incredible cast to help spoof a number of high-profile action films, such as Lethal Weapon, Basic Instinct and Die Hard, among others.
18.
Six-String Samurai (1998)
Palm Pictures / Courtesy Everett Collection
A post-apocalyptic action-musical-comedy hybrid, Six-String Samurai follows Buddy (Jeffrey Falcon), a guitarist and swordsman who aims to become the new King of Rock 'n' Roll by facing off against cannibals, roaming gangs and rival musicians in the desert of "Lost Vegas."
19.
Freaked (1993)
Anchor Bay / Courtesy Everett Collection
An outrageously subversive and biting comedy from the creators of The Idiot Box, Freaked tells the tale of a former child star (Winter), whose endorsement of a mega-corporation leads him into the hands of a maniacal scientist and freak show proprietor (Randy Quaid).
20.
Judgment Night (1993)
Allstar Picture Library Ltd. courtesy Alamy
In this compelling and underrated action-thriller, four well-to-do friends (Emilio Estevez, Gooding Jr., Jeremy Piven and Stephen Dorff) accidentally run over a man who is subsequently executed by a local crime lord (Denis Leary), forcing them to run for their lives through a hostile urban landscape.
21.
The Limey (1999)
Artisan Entertainment / Courtesy Everett Collection
From filmmaker Stephen Soderbergh, The Limey is an impactful, slow-burn crime film following an English career criminal (Stamp) who comes to America seeking vengeance against a corrupt record producer (Peter Fonda) that he believes is responsible for the death of his daughter (Melissa George).
22.
I Come in Peace (a/k/a Dark Angel) (1990)
Triumph Releasing / Courtesy Everett Collection
Dolph Lundgren and Brian Benben team to fight deadly intergalactic drug dealers in Houston, Texas in I Come in Peace, an explosive, SFX-heavy action movie unlike anything else.
23.
Warriors of Virtue (1997)
MGM / Courtesy Everett Collection
Even if you've never seen Warriors of Virtue, you've likely seen the unbelievable trailer for the martial arts fantasy film, which follows a young handicapped boy who is transported to a forest realm in which he encounters anthropomorphic kangaroo ninjas.
24.
Surviving the Game (1994)
New Line Cinema / Courtesy Everett Collection
A truly great action film bolstered by an excellent cast and spectacular set pieces, Surviving the Game is a fun twist on The Most Dangerous Game, in which a homeless man (Ice-T) who utilizes his wits and cunning to fight back against the group of sadistic businessmen hunting him in the remote wilderness.
25.
State of Grace (1990)
Orion Pictures Corp / Courtesy Everett Collection
Unfortunately overshadowed by Goodfellas upon its initial release, State of Grace tells the story of two brothers navigating the troubled waters of an Irish crime ring in New York City, one of whom is an accomplished gangster (Oldman) while the other is operating as an undercover cop (Penn).
26.
In the Mouth of Madness (1994)
New Line Cinema / Courtesy Everett Collection
The final film of John Carpenter's "Apocalypse Trilogy," In the Mouth of Madness tells the terrifying tale of a headstrong insurance agent who learns that a prominent horror author has disappeared, with all evidence pointing to an ominous fictional location from his novels.
27.
Arlington Road (1990)
Screen Gems / Courtesy Everett Collection
A suspenseful and unpredictable thriller that has gained a strong following on home media, Arlington Road follows a history professor (Bridges) who suspects that his well-to-do neighbors (Robbins and Joan Cusack) may actually be a part of a domestic terrorism cell.